Money Heist
Madrid Adventure is thrilled to introduce an unforgettable team building activity that will transport your corporate clients into the thrilling world of the TV series Money Heist.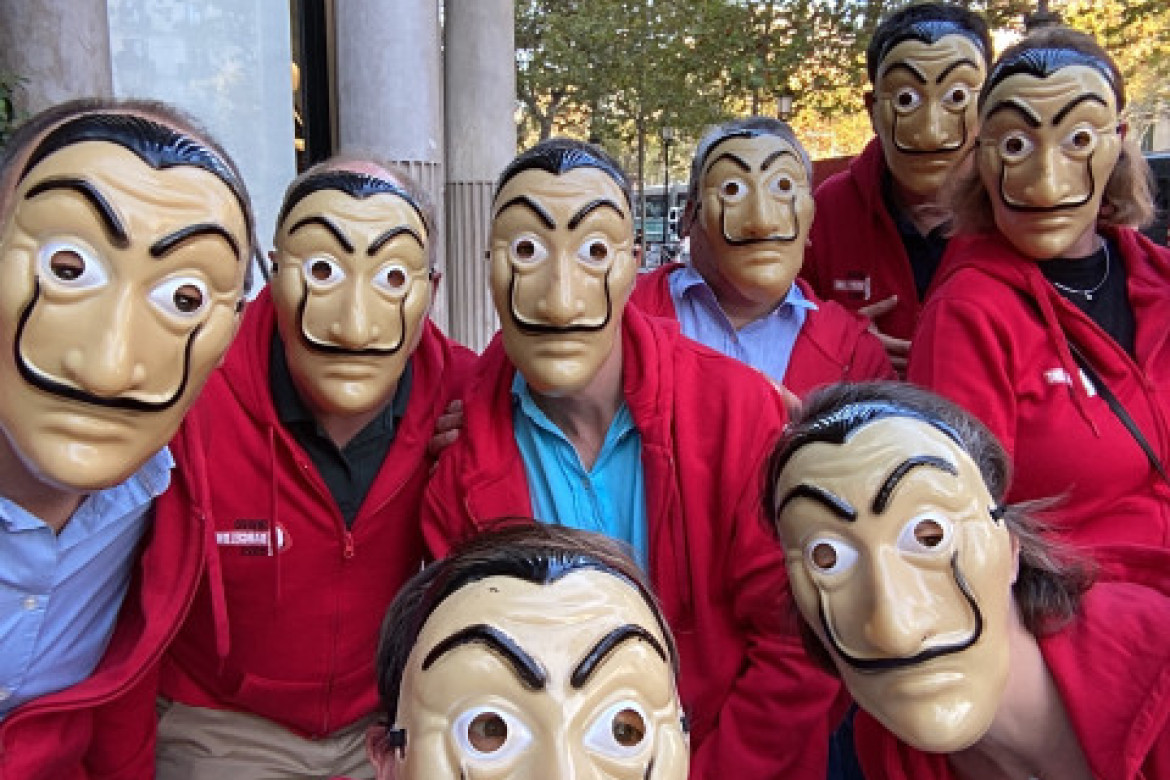 Welcome to the Madrid Money Heist Team Building Activity, an immersive and exhilarating experience that takes place right in the heart of the stunning Spanish capital.
Our event begins with a mysterious invitation for your corporate team, inviting them to be a part of an elite group of thieves embarking on a daring heist. With the charismatic guidance of our professional facilitators, your colleagues will be transformed into a tight-knit crew of masterminds, each with their unique role to play.
The adventure unfolds on the enchanting streets of Madrid, where participants must work together to solve cryptic clues, uncover hidden treasures, and ultimately orchestrate a simulated heist. From deciphering coded messages to navigating secret passages and cracking safes, every challenge is designed to foster teamwork, creativity, and problem-solving skills.
As your team progresses through the mission, they'll face unexpected twists, fostering adaptability and resilience. All the while, they'll experience the rich culture and history of Madrid, making this team-building activity both entertaining and educational.
At the conclusion of the adventure, your team's efforts will be rewarded with a thrilling finale and a sense of accomplishment that only a successful heist can bring. This exhilarating experience is the ideal way to strengthen bonds, improve communication, and enhance leadership within your corporate team.
Madrid Adventure's Money Heist Team Building Activity is a unique blend of excitement and teamwork, set against the backdrop of one of Europe's most captivating cities. Make your next corporate outing an unforgettable one by choosing this thrilling adventure with Madrid Adventure. It's an experience that your team will talk about for years to come, reinforcing camaraderie and motivation in your organization.
Let's get started
Get in touch today to start your adventure with a free quote for this activity.
We recommend
You might also like these activities
Top pick