Bubble Football
Bubble football is a great activity that offers both larger and smaller groups a chance to compete against each other in a fun way. Bubble football can also easily incorporated into a multi- activity day such as the Olympic Games.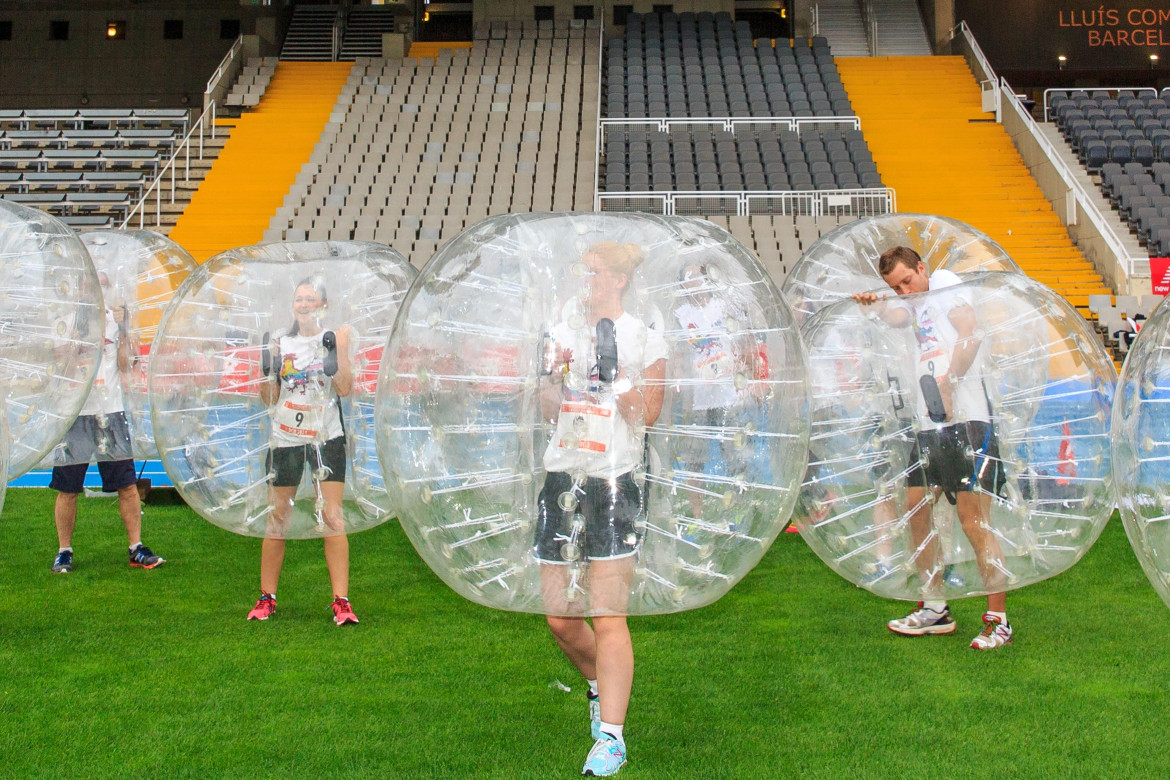 Bubble football a thrilling journey of camaraderie and competition through our exclusive Bubble Football team-building activity in the heart of Madrid.
As a company dedicated to fostering teamwork, communication, and employee morale, we've curated an unforgettable event that combines fun, laughter, and bonding.
Our Bubble Football activity takes the traditional sport of football and adds an exciting twist – participants wear inflatable bubbles that protect them from head to knee, turning the game into a hilarious and energetic spectacle. Picture your colleagues and clients bumping and bouncing as they attempt to score goals while trying to stay on their feet. This unique adaptation of soccer promises unforgettable moments and loads of laughter, making it a perfect icebreaker for even the most reserved team members.
Corporate clients will have the opportunity to engage in healthy competition, boost morale, and strengthen team dynamics while enjoying the picturesque surroundings of Madrid. Our experienced facilitators ensure a safe, fair, and exhilarating experience, making it suitable for participants of all fitness levels and football expertise. Whether your team is composed of sports enthusiasts or those just looking for a good time, this activity is an inclusive and engaging way to build relationships.
We will handle all the logistical details, from booking the venue to providing the necessary equipment. We can tailor the event to meet your company's specific goals, whether it's enhancing communication, promoting leadership skills, or simply providing a memorable day out of the office.
In addition to bubble football we can also offer a number of alternative games, such as bubble bulldog, bubble races/relays, bubble challenges and even bubble sumo. All sure to provide plenty of enjoyment. Bubble games can also be incorporated as part of an extended event such as a multi-activity day or the Madrid Olympics.
Let's get started
Get in touch today to start your adventure with a free quote for this activity.
We recommend
You might also like these activities
Top pick